The MCR Pick-Up was from conception a demonstration of technology showing that a schedule of conditions could be met, an idea that many considered impossible. The aim, to produce an aircraft with exceptional space, enough to accommodate a bed, to enable freedom, with performance comparable to the fastest machines and suitability for rough field use whilst respecting the weight restraints imposed by the Ultralight regulations.
The challenge could be met using an aerodynamic solution evolved directly from the MCR ULC and important technological advances in the design of the structure enabling the weight to remain within regulated limits.
The basic fuselage structure is the same as for the MCR 4S, lightened and transformed to two seats.
The result is an ultralight aircraft that combines the performances of the MCR ULC and the capacity of the MCR4S, in effect a caravan.
Important points :
Oleo pneumatic undercarriage

Wink tanks (130 litres)
Cabin width 1.20 m
Payload / 200kg (limit in Ultralight configuration)
Performance +/- 250 km/h (+/- 135 kts)
Adjustable seats and rudder pedals
2 000 litres luggage compartment
Carbon structure and components
Regulatory limitations (France), Ultralight – 472.5kg, Kit (CNSK) – 600kg (MTOW since 2006)
Specifications:
Wing span 8,72 m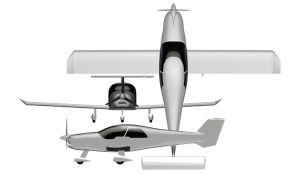 Wing aera 8,3 m²
Aspect ratio 9,2
Cabin width 1,20 m
Fuel capacity 2 x 65 l
Empty weight, standard version 290 kg
Empty weight, full equipment 310 kg
Maximum take-off weight 472,5 kg
Wing loading 57 kg/m²
| | 912ULS |
| --- | --- |
| Power | 100HP |
| Cruise Speed 75%, FL 0 | 245 km/h |
| Cruise speed 75% FL 80 | 236 km/h |
| Fuel consumption at 75% | 20.7 l/h |
| Range at 75% | 1 709 km |
| Cruise speed 65%, FL 110 | 251 km/h |
| Take-off roll, CS propeller | 190 m |
| Climb rate, FL 0, CS propeller | 1 000 ft/min |