Directly derived from the MC100 of Michel Colomban, the MCR Sportster which is sold in kit form benefits from construction techniques adapted to series production.
The initial design program started in early 1994, and the MCR Sportster flew for the first time in July 1996.
The MCR Sportster is a side by side two-seater airplane with incredible performance and capability. Fast and agile, the MCR Sportster was specially designed to reach top speed while providing the most enjoyable experience to pilots.
The MCR Sportster is a very high performance aircraft, that can cruise as fast as 300 km/h with only a 100 hp engine, at very low cost.
Thanks to the highest level of technology available, and very light material, the MCR Sportster has a very efficient direct control system that guarantees the same satisfaction as flying a fighter jet.
The MCR Sportster can be equipped with a choice of different power plants, but may also be fitted with other options such as :
Ballistic Recovery System parachute (BRS)
Extended range wing tanks.
Toe operated Hydraulic brakes.
The MCR Sportster is available in kit form in respect with the CNSK regulation (specific kit airworthiness certificate) or in the "experimental" category depending on the registration country.
Specifications:
Wing span 6,63 m
Wing aera 5,20 m²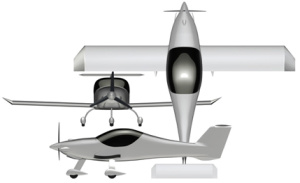 Aspect ratio 8,45
Cabin width 1,12 m
Fuel capacity 75 l
Empty weight, standard version 230 kg
Empty weight, full equipment 260 kg
Maximum take-off weight 490 kg
Wing loading 86 kg/m²