The specification of this version ULM was established in 1996, defining it as an ultra-light airplane based on the FAI requirements.
First flight was done in April 1997.
Based on the MCR Sportster design, with the same fuselage and engine installation, the FAI ultra-light MCR-ULC was specifically designed for fast cruise and optimized for slow approach speeds. The ULC characteristics lie in its unique wing design, involving a greater span and area, as well as split double slotted fowler flaps and ailerons. This sophisticated wing concept allows the MCR ULC to reach an unprecedented maximum to stall speed ratio of 4, although it guarantees a very gentle behavior in rough air conditions and a high safety level.
The MCR ULC can be equipped with a choice of different power plants, but may also be fitted with other options such as :
Ballistic Recovery System parachute (BRS)
Oil Pneumatic under carriage ( for intensive use)
Extended ferrying fuel
Toe operated Hydraulic brakes
Fuselage footsteps
Specifications:
Wing span 8,64 m
Wing aera 8,13 m²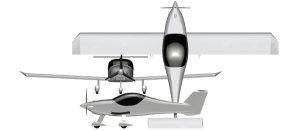 Aspect ratio 9,18
Cabin width 1,12 m
Fuel capacity 75 l
Empty weight, standard version 260 kg
Empty weight, full equipment 280 kg
Maximum take-off weight 472,5 kg
Wing loading58 kg/m²
| | 912UL | 912ULS |
| --- | --- | --- |
| Power | 80HP | 100HP |
| Cruise Speed 75%, FL 0 | 250 km/h | 271 km/h |
| Cruise speed 75% FL 80 | 270 km/h | 293 km/h |
| Fuel consumption at 75% | 17.1 l/h | 21.3 l/h |
| Range at 75% | 1 245 km | 1 097 km |
| Cruise speed 65%, FL 110 | 265 km/h | 288 km/h |
| Fuel consumption at 65% | 14.8 l/h | 18.5 l/h |
| Range at 65% | 1 432 km | 1 264 km |
| Take-off roll, CS propeller | 140 m | 112 m |
| Climb rate, FL 0, CS propeller | 1750 ft/min | 1950 ft/min |